Special Offer
 Lighting Up Your Boundaries
Lighting up the edges of your Boundaries…
How to NOT take on other's energy, Be Free, & Powerfully Claim Your Space in the World
Featuring:
The Emotional Security System
The Energetic Management System
The Understanding Emotions Series
5 Week Tele-Seminar (5 Live Empowerment & Intuitive Reading sessions, MP3 Audio downloads, Downloadable PDF's, & Video Coaching, **Full Online Membership Site Access ($247value)
Value $797
Many of us end up juggling a dizzying array of stresses throughout the day. We have been taught to just "buck up" and take it, as if that's just how life is… Stressful. But do you have to live as a circus performer, trying to juggle all of the many aspects of life? Is there a way to get through life without performing a crazy balancing act? This is especially important for highly sensitive people!
Perceived stress in your environment triggers an emotional response in the body. Stressful emotions held in the body may show up as fatigue, exhaustion, and nervous tension.
So let's start with these questions: How do you keep your environment from influencing your emotional/physical state of being? How do you set healthy emotional boundaries?
We are receivers and transmitters of energy and energy is our primary language and way of communicating…
Energetic pollution abounds… all thoughts, emotions, feelings contribute to our health and wellness. We are all psychic/intuitive beings, living in a World that creates sensory overload, so we must get back to the basics. It is important for us to learn how our energetic system and field works so we can support ourselves to not take on the "stuff" of others.
When we discover how to create a healthy inner atmosphere and energy field, then we will feel comfortable to finally claim our space in the World and live out our purpose, create prosperity and real loving relationships.
Whether you want to overcome worry and anxiety, achieve greater degrees of healing, break free of inhibiting behaviors that are keeping you trapped, or bring more peace and happiness in to your life, the Lighting Up the Edges of Your Boundaries gives you the tools you need to conquer the inevitable stresses of life with determination and ease. Ultimately, you are sure to be inspired and empowered with a variety of techniques to apply to your everyday life for years to come.
Indications that your boundaries need restoring…
You have experienced a trauma in life: abuse, victimization, car accident, near death
You get frequent headaches, sudden pains in your body
You feel confused about your own thoughts that you are generating, they don't seem to be your own
how to get off of autopilot, start empowering your life
You have panic or anxiety attacks
You stop wanting to be around people, go to parties, annoyed, short fuse and lack of patience
Lack or inability to focus on a task to completion, procrastinate, create distractions and or addictions
Feeling of a dark presence around you… a feeling of gloom and doom hovers
Worrying about what others are going to think about your actions
Noticing that you tend to take on the mannerisms and antics of those around you… lose yourself in relationships
Lighting up the edges of your Boundaries this vital & valuable information:
- Learn about Your Radiant Energy Bodies that make up the 7 layers of your Aura, what each body is for and how to heal and repair the rips, tears, holes and bulges that may be effecting your physical body in a negative way.
- Learn about Your Radiant Energy Centers(chakras) that take in the Universal life force energy. Are yours clogged up with residue and not allowing you to gleen all the wonder from life, heal your body and radiate confidence?
Note: This will be a detailed step by step understanding with PDF's
We will also be: 
Unlocking Relationship Strategies for Deepening True Intimacy, Radiating Confidence and Creating Real Love
- Deepening True Intimacy… 
Speaking your Truth and Sharing yourself with healthy boundaries
- Radiating Confidence… Letting go of past pain and getting your Glow back
- Creating Real Love… Not based on personas or masks we wear, but with Devotion and Connection
Find out:
Which Persona is the one who can't say "No"? 
Which Persona is the one who attracts energetic vampires?
Which Persona is the one who doesn't know how to set up boundaries in relationships?
Bonus PDF's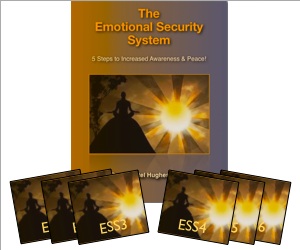 The Emotional Security System:
5 Steps to Increased Awareness, Vitality and Peace
(Instantly Accessible Online/Downloadable E-Guidebook & Audio & Video Package)
Value $277
Emotional Security System Downloadable e- Guidebook
Emotional Security System Downloadable 6 - Part Audio Series
Emotional Security System Downloadable 6 - Part Video Series
PDF's:
Your Radiant Bodies
Your Radiant Chakras
InventoryU
Reclaiming your Lost Energy…Creating Emotional Stability, Wholeness & Healthy Boundaries
Do you sometimes feel like your Emotional Security System has been compromised? Do you have a hard time staying positive around negative people? Do you live or work with "downers" you know those people who seem to drain the energy right out of the room, otherwise known as...energetic Vampires? If you feel overly sensitive at times, have headaches, body aches or simply feel drained, then The Emotional Security System is for you. It's just too easy to let your guard down and become a dumping ground for others… especially if you have a "giving" spirit. I know, I am naturally empathetic to the pain of others and seem to listen a bit more, tune in too deeply and feel other's pain and struggle.
How do you stop giving your energy away?
What are some techniques to use for staying out of overwhelm, doubt and fear?
How can you stop being overly emotional, sensitive or empathic?
There is a fine line between setting up a boundary and setting up a defense mechanism that blocks out others. With this system you will create a Powerful and Healthy boundary that lights you up, keeps you secure and protected without turning others off, scaring them away or feeling too harsh. It is a Natural state for us to be embodied in strength and truth, but one that most people have never been introduced to, one that reflects back to another their personal emotional state without needing to carry the load for them. No more enabling others! No more codependency! And No more suffering!
Emotional Security System E-GuideBook
 Supports you on your path of reclaiming vital life force energy and enlivening your reality so that you are capable of manifesting and living with Health and Happiness. Inside you will have access to the most Powerful Techniques for instantly refreshing your energy:
Learn the 5 steps to creating a Stable Emotional Security System and STOP taking on others "stuff".
Discover how to create healthy psychic and physical boundaries and hold them when in turmoil, under stress or influence of others.
Set yourself free from past karmic ties, so you can claim your personal place in the World and live with Passion and on Purpose.
Powerfully claim a sacred space within, without shutting down or shutting others out.
Create a fulfilling life of positivity, even with all the turmoil that is going on in the World.
I have some answers for you. Because I am a Highly Sensitive Intuitive, I've gone through many of the exercises out there and this is what I have found that works the Best.
Growing up in a challenging home with a volatile environment, I became highly attuned to all that was going on around me… almost too much.
I now know that the hyper-vigilant nature from the past has created a wonderful opportunity for me to be in touch with my sensory acuity and that's just what I needed to be highly accurate while reading for clients.
So it worked out in a positive way. But for years I lived with absolutely no boundaries and was a sponge, soaking up others energy. It was painful, emotionally, mentally and physically.
When I got sick a few years ago, I said, "That's enough!" and that is when I started to be vigilant in another way… to support my energy field.
I knew that if I kept taking on all of my clients emotional baggage, then I would eventually die from physical overwhelm. This is really important. 
When our boundaries are weak, unguarded, or unclear, we let in all sorts of stuff that isn't actually our stuff, and we give away our own personal energy unconsciously.
So I have created The Emotional Security System for all of us to learn how to not only set Healthy Boundaries, but to learn how to be a Presence in the World…
To take up our rightful space in the World, in our relationships, in our jobs, in our friendships and in our capacity to receive Divine Grace.
If we unconsciously think of ourselves as small, or we retract, or we are overly empathic or overly giving, than we must learn how to set boundaries so that we can serve in a positive, live-giving, empowering way.
Emotional Security System 6- part Instructional Video Series: Instantly Accessible Online/Downloadable comprised of one to one guidance in mastering your Emotional Energy and Personal Boundaries.
Intro: Your Transformational Tool Kit:Overview of the ESS
Defining Boundaries: Construct a healthy boundary around your body… mapping out your territory, a visceral manifestation of your personal space so there is no more Energetic Trespassing!
Cord Cutting: Get clear of the Emotional and Energetic Entanglements that have you bound up in Fear, Sadness, Overwhelm and Anxiety.
Conscious Deflection:No longer take on negative projections, judgments or unconscious, insecure tendencies of others like jealously or envy.
Vortex Vacuum: The ultimate experience in releasing all the residue that has accumulated in your energy field… You are Not a dumping ground for discordant emotions or thought forms. Let it Go!
Sourcing Light: Let your body, mind, and feelings be rejuvenated. Experience a resource of boundless energy, lighting you up, and leaving you Strong, Powerful and Radiant!
In the System, I personally take you through each of the exercises via Video Coaching as well as give you a Downloadable E-Guidebook that lays out the steps one – by – one.
No more messing around! It's time for all of us to know exactly where others end and where we Begin. It's time for all of us to feel safe and secure wherever we go and live Fully expressed. It's time for us to light up the edges of our Boundaries and live in Freedom… Boundless!
Energetic Management System: Your Transformational Tool Kit (Instantly Accessible Online/Downloadable E-Guidebook, Audio & Video Package)
Value $277
Energetic Management System Downloadable e- Guidebook
Energetic Management System Downloadable 6 - Part Audio Series
Energetic Management System Downloadable 6 - Part Video Series
Important: This is my no frills or fluff, to the point, condensed how-to process.
Everything you need to transform yourself quickly and easily. It has all you need to Master your Energy and Master your State.
-Are you tired of Procrastinating, feeling out of Control and going into Fight/Flight?
-Are you in need of a Tool kit that can energetically launch you from 0 to 60 in seconds? 
-What if you could finally learn how to master your energy so that you could powerfully
shift out of any debilitating state of mind?
We all know that your physical condition has been scientifically linked to your 
mentality… If you don't have the tools
to shift your mental State of Being then you are hindered in your capacity to live fully.
From the moment you are born till now, your life is a multitude of adjustments, shifts and changes. You get to choose how to perceive them through your choice of Perspective…
Are they opportunities or challenges, experiences of victimhood or growth?
This continuous process of choosing our Perspective occurs on all levels consciously or unconsciously… And not just physically, emotionally but at the very foundation of all life 
- Spiritually. It is at this foundational level, the Superconscious, Vibrational level that all shifts are born.
With the Energetic Management System you take charge of your experience of reality through vibrational alignment.
In other words, what's unfolding with the quality of your health, are tangible results you may use to assess the integrity of yourvibrational state.
Without judgment, you take action by utilizing your tools to create your personal experience. Self-reflection simply becomes a touchstone to evaluate where you are on your journey.

The moment you realign with your original vibrational pulse, you come back into integrity with yourself… then every aspect of your life profoundly improves and harmony is restored in your body.
Energetic Management System E-GuideBook Supports you on your path of reclaiming vital life force energy and enlivening your reality so that you are capable of manifesting and living with Health and Happiness.
Inside you will have access to the most Powerful Techniques for instantly reclaiming energy:
Stop procrastination and overwhelm by learning how to stabilize your system daily.
Learn how to gain inner vision to access the portals of your energetic system and open to receive.
Take charge of your emotional state and learn how to release the overwhelm, confusion and frustration that blocks your Peace performance.
Start to live life your way by clarifying and choosing your emotional status at any given moment.
Discover your inner projector and and start playing empowering movies on your mind screen.
Energetic Management System 6- part Instructional Video Series: Instantly Accessible Online/Downloadable comprised of personal guidance in mastering your Energy and Perspective.
Intro: Your Transformational Tool Kit: Overview of the EMS
Grounding Technique: How to stay strongly committed and focused on achieving your goals, despite life happenings that can side-swipe you.
Body Scanning Process: How to thoroughly scan your body for discovering and locating, trapped energy that promotes illness & disease.
Emotional Releasing Exercise: How isolate the trapped emotions that hinder your health and clear them out of your system for release and transmutation.
Emotional Replacing Exercise: How to reclaim your power through transmuting and replacing the old emotional baggage into transformational vital life force energy. This will allow you to use your reclaimed energy for fulfilling your goals.
Inner Imaging Process: Learn the process of identifying, shifting and eliminating the images you store in your subconscious mind. Shift into creator mode and artistically design your own inner images as inspirational movies connected to your Superconscious Mind.
Energetic Management System Live Coaching Call:
Learn the processes that I teach my high profile executives and celebrities. These are the tricks of the trade that I use as a Spiritual Trainer… If you have ever wondered how the V.I.P's looks so good and keep up their energy as they travel the World, then you will want to be on this call. I will go through each of the techniques in Your Transformational Tool Kit and explain in detail why and how they work. It's important to not just read or watch the information discussed in the Energetic Management System, but to actually anchor the techniques in your Body, Mind and Reality.
Understanding Emotions Series: Using Emotions as Action Indicators
Value $197
Understanding Emotions Series, E-Guidebook 
Understanding Emotions Series, 9 - Part Audio Series
Understanding Emotions Series, 9 - Part Video Series
Understanding Emotions Series, 9 – Downloadable PDF's
What are your emotions telling you to do… emotions have a language all their own and when you understand it you can be emotionally guided and informed to take specific actions. This all leads to greater levels of clarity, emotional freedom and security with yourself. 

You no longer need to "deal with" or put up with emotions, they don't have to run your life, you no longer need to hide them, suppress them or avoid them. You can listen, take action and move on with greater understanding… Understanding leads to knowledge, good judgment and Wisdom all the things a great choice is made from…
Intro Video: The Power of Understanding Emotions
Video & PDF #1:
 UNDERSTANDING CONFUSION
Video & PDF #2:
 UNDERSTANDING SADNESS
Video & PDF #3:
 UNDERSTANDING ANGER
Video & PDF #4:
 UNDERSTANDING JEALOUSY
Video & PDF #5: 
UNDERSTANDING FEAR
Video & PDF #6: 
UNDERSTANDING SHAME
Video & PDF #7: 
UNDERSTANDING GUILT
Bonus Video & PDF: 
UNDERSTANDING ANXIETY
The Total Value of The Lighting Up Your Boundaries...
Live Coaching Calls, Question & Answer Sessions with me is...
$1548.00
And you get it all for only:
 $97
Orientation:
Downloadable MP3 available Now!
-----------------
Live Coaching Calls and Q & A Intuitive Readings:
Session 1 - 5 
Coming soon!
Archives of all past LUB Sessions:
Downloadable MP3's available Now!
Downloadable Videos available Now!
NOTE: ALL Live CALLS WILL BE RECORDED...
*Due to the nature of this electronic package, there are no refunds and all sales are final.